GEORGE MUNOZ, M.D.
Board Certified Rheumatologist please call 305-682-1441
for Rheumatology appointments
Expert Healthcare
Dr. Muñoz has been in the Aventura, Florida area for over 35 years and is highly regarded by his colleagues and patients. The Oasis Institute is a state of the art 5 star facility offering access to hand chosen highly respected practitioners, many of whom are leaders in their respective fields, earning an integrative Multi-Disciplinary Team Approach.
Dr. Muñoz is a Board Certified Internist and Board Certified Rheumatologist. He completed a post-doctoral Fellowship in Integrative Medicine (2006-2008), taught by the World Class faculty at the prestigious University of Arizona Center for Integrative Medicine, founded by Andrew Weil, MD. He is one of the first known Integrative Rheumatology fellow trained in the United States and personally possesses a wide skill set of trainings including TCM (Traditional Chinese Medicine-Acupuncture), Homeopathy, Energy Medicine and martial arts disciplines.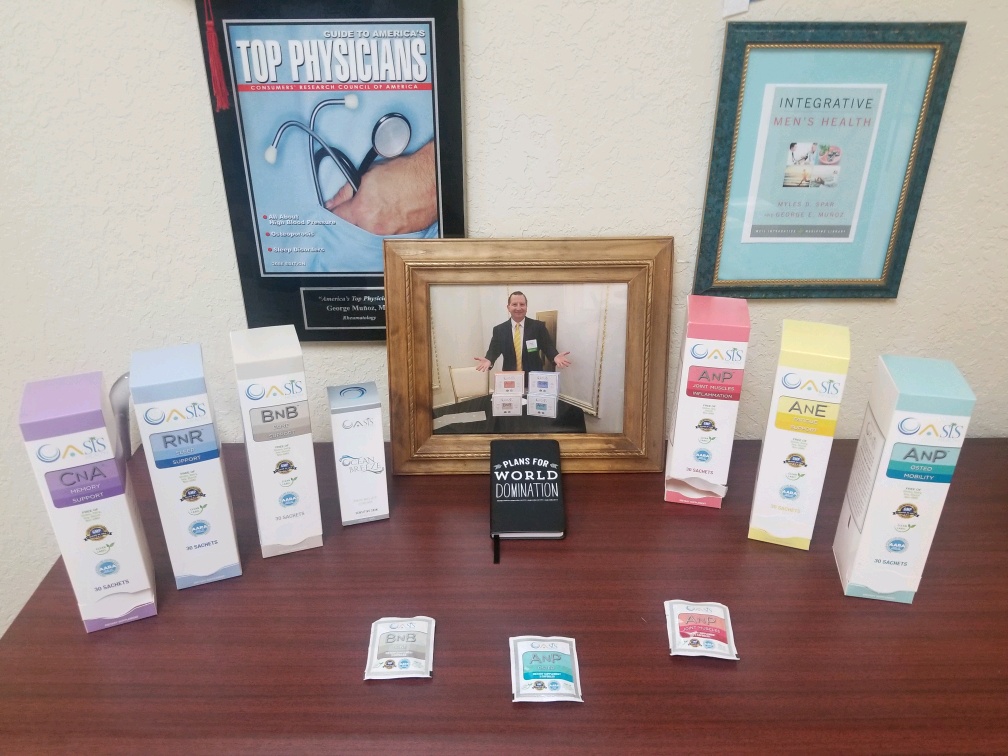 "Before coming to The Oasis Institute I did not believe a place In South Florida existed under 1 roof, I would find a team of amazing highly skilled, certified and educated integrative practitioners that actually LISTEN – well I did! I have been able to regulate my hormones naturally along with having other treatments like massage, acupuncture and offer lectures on Homeopathy, Nutrition, Feng Shui and Emotional Freedom Tapping. Thank you Dr. Muñoz for providing a clinic with the services you believe in, overseeing a great staff and supporting the medical issues that have been lost through insurance company funded medicine. You are the BEST!"
I have had Botox a few times in my life but my experience at The Oasis Institute was unbelievable. The experience provided by Muriel was the most personal attention I have ever received and the results really paid off. She knew exactly where to give me the injections so my face looked so much younger and completely refreshed. I am more than happy with the services provided that will go back to her for my Botox and fillers again. The Oasis Institute has Exceeded my Expectations, just loved the total experience I had with her and the office itself.
"Just wanted to let you guys know what a beautiful experience I had as a first time acupuncture patient. I was totally skeptical at first when, Dr. Muñoz, suggested I try the treatments for my persistent nausea, in lieu of medication. Good news after my very first session the nausea seized!!! After several more sessions no more nausea!!! IT WORKS !!!"
"Working in the health care field I have a lot of options when it comes to whom I choose to see for my own personal health care needs. Dr. Muñoz is an excellent clinician and the Oasis Institute is a state of the art facility that can essentially run complete tests on whatever health concerns you may have. I trust Dr. Muñoz's medical advice and truly believe that he cares about my over all health and longevity."
I never expected to see these results from acupuncture. I never knew how it worked. I'm a firm believer that it works. My pain has subsided. My energy is better. My sleep is definitely better & my anxiety has calmed down quite a bit.
Make an appointment for the Oasis Institute Services
Contact us with any questions you may have, or to request an appointment